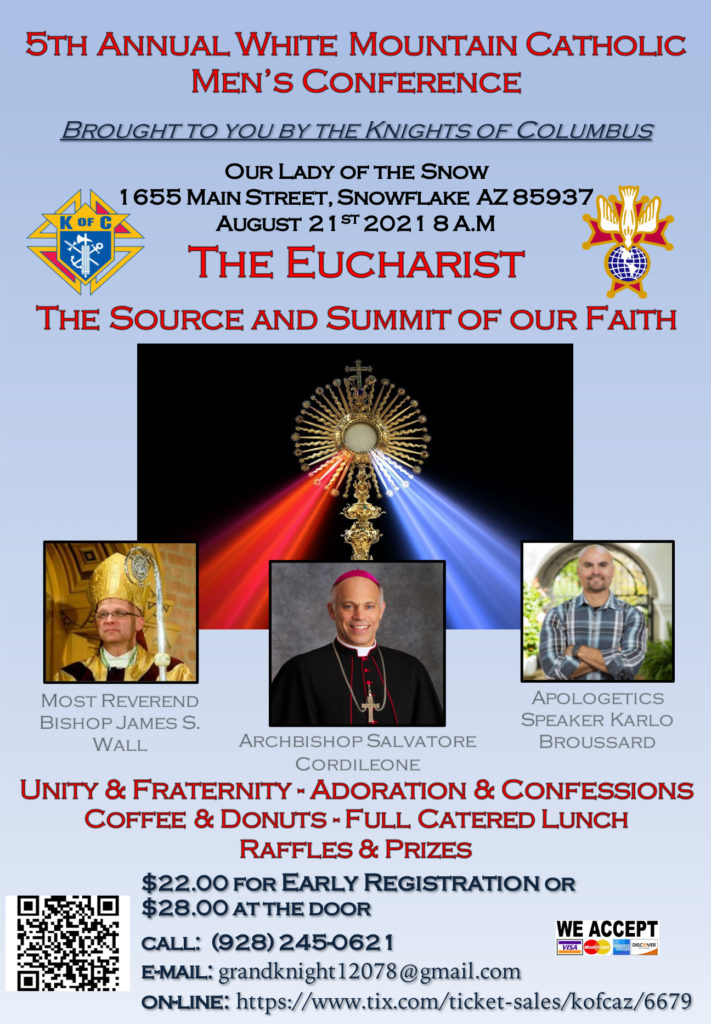 The 5th Annual Catholic Men's Conference is coming in August. The Archbishop of San Francisco, Salvatore Cordileone, will be the keynote speaker at the conference. Archbishop Cordileone is a national figure, and we are truly blessed to have him attending and speaking at our conference in Snowflake, Arizona.
This will no doubt be the biggest White Mountain Catholic Men's Conference sponsored by the Knights of Columbus in 5 years, a strong comeback from the year of COVID-19.
Fr. Dan Kassis attended our council meeting tonight and reported that the Archbishop has already made his travel plans.  Fr. Dan urged us to get the word out, so District #21 councils will be reaching out to their parishes and neighboring districts in the coming weeks up to the Conference date on August 21st.
We have a strong speaker line-up…in addition to Archbishop Cordileone, we have Bishop James S. Wall and apologetics speaker Karlo Broussard.  For now, to make things easier and get the word out more efficiently, we've created an event ticket sales link.  The conference planners of this event are ready to get the word out across the Arizona Jurisdiction.
The 5th Annual White Mountain Catholic Men's Conference event is now active online, and you can view the conference flyer and purchase tickets at this link:  https://www.tix.com/ticket-sales/kofcaz/6679.
Please contact Doug Sturm if you have any questions.
Thank you.
Doug Sturm
GK #12078
DD #21